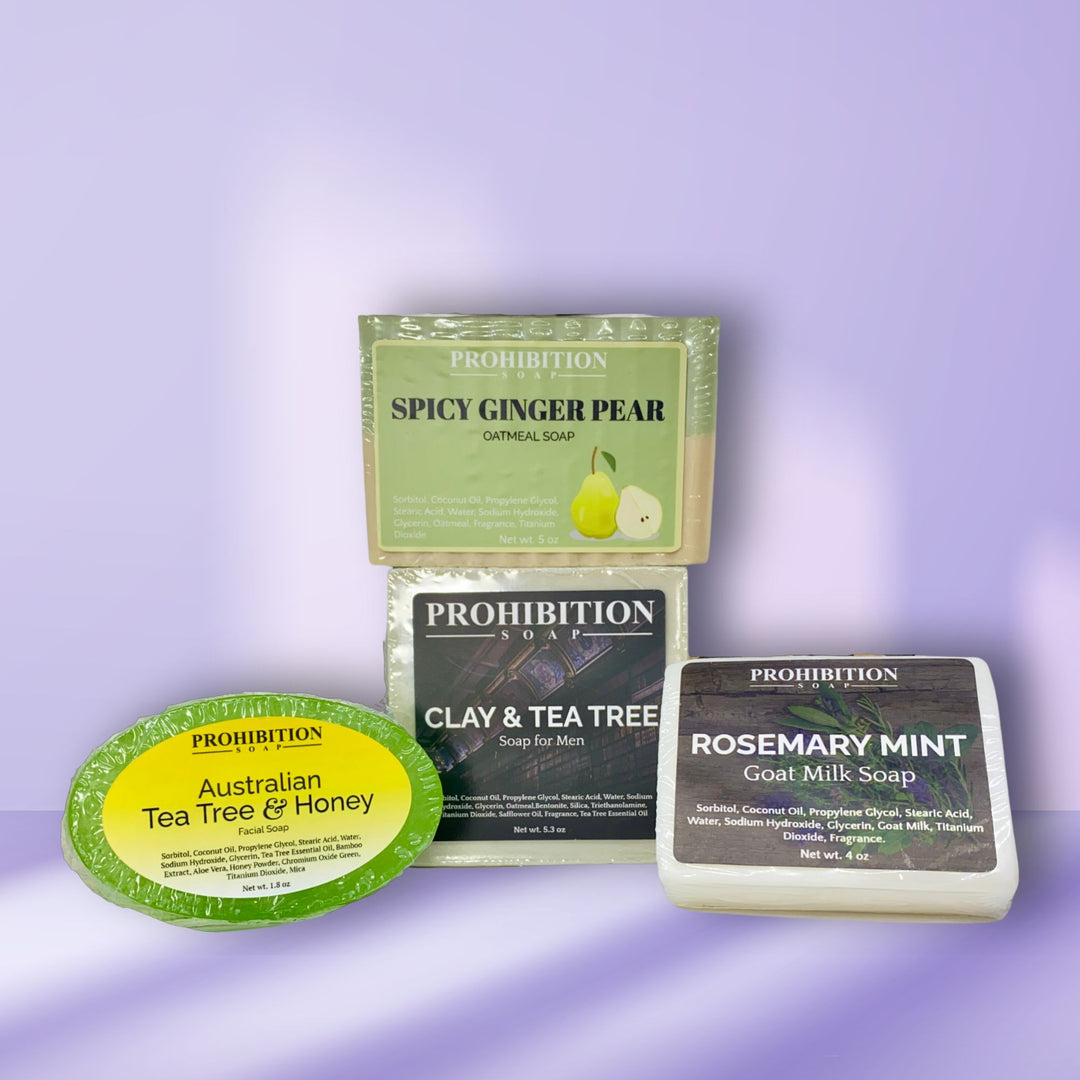 Mama P's Soap Bundle
Regular price
$30.99
Sale price
$25.00
Save $5.99
/
Low stock - 2 items left

Inventory on the way
Responsibly Sourced Ingredients
100% Satisfaction Guarantee
---
Get this bundle of four unique and different soaps made by Mama Prohibition herself.
Australian Tea Tree and Honey Facial Soap - Specially designed for gentle cleansing of the face. Its light scent of Tea Tree Essential Oil provides a luxurious and calming user experience. Experience a gentle yet effective clean every time you use it.

Honey's natural humectant and antiseptic properties make it the perfect natural cleansing ingredient to help hydrate and soothe your skin while keeping it healthy.

Experience nourishing botanicals like Aloe, Bamboo Extract, non-GMO Coconut Oil, and Tea Tree Essential Oil!
Clay & Tea Tree Soap for Men - This refined soap has been customized to exude a dignified scent. Crafted with oatmeal for light exfoliation and nourishing ingredients like bentonite clay, tea tree oil, and safflower oil, its sophisticated smell is complete with a blend of bergamot, juniper, and patchouli.
Spicy Ginger Pear - Lather up with soothing smells of ginger spice and juicy pear with this soap. An irresistible blend of tartness and sweetness, this fragrance captures the essence of crisp pears. Enjoy the combination of ground ginger and white spices blended with creamy vanilla. Real oatmeal is included, helping to hydrate and soothe your skin.
Rosemary Mint Goat Milk Soap - This Goat Milk soap has a revitalizing blend of rosemary, fresh garden herbs, and mint. It's a great way to soothe skin and provide a refreshing aromatherapy experience.

All-natural oils. Palm oil and Mica are responsibly and sustainably sourced.
Traditionally made bars of cold processed soap are best when used with a soap dish that allows the bar to dry or air out. Avoid leaving in standing water.
As these soaps are handmade in small batches, pictures are for reference only. Color, shape, and weight may vary slightly.
Each Bar: 5.0 oz - 5.5 oz.
Dimensions: 3"x 3"x 1"
*Weight and size can vary slightly due to each bar being cut by hand.