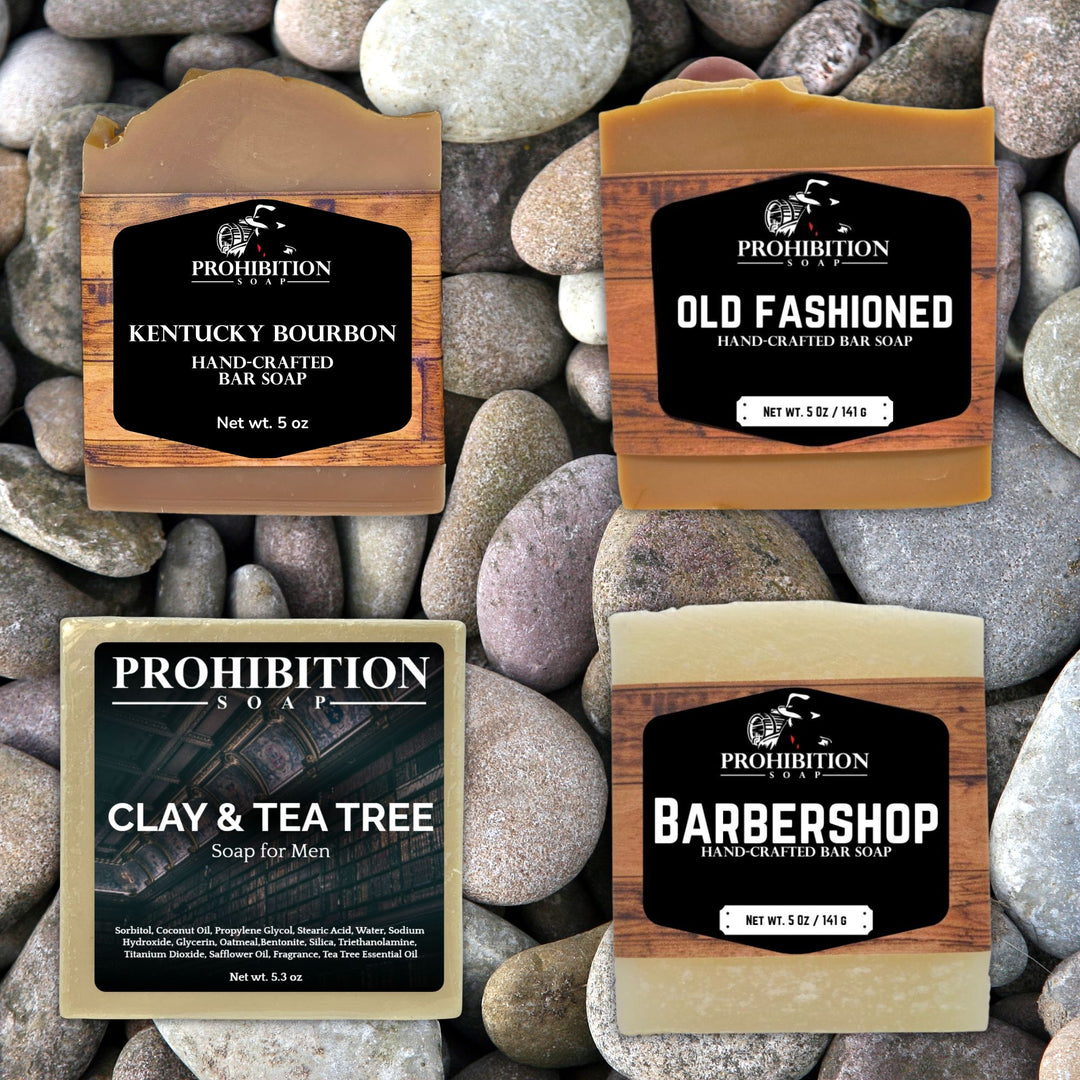 Best-Seller Soap Bundle
Regular price
$38.50
Sale price
$35.80
Save $2.70
/
Low stock - 1 item left

Inventory on the way
Responsibly Sourced Ingredients
100% Satisfaction Guarantee
---
This awesome handmade soap bundle includes 4 of Prohibition Soap's best-selling bars.
Kentucky Bourbon - Our Kentucky Bourbon bar is as classic as it gets. End of story. Formulated from a blend of orange, bergamot, clove, midnight orchid, musk, leather, oak cask, and patchouli. Experience a well-balanced and luxurious scent. Perfectly blended to represent the richness of Kentucky Bourbon, this bar is sure to be a family favorite.
Old Fashioned - An intense combination of smoky whiskey and pleasant sweetness from the orange and cherry notes. Customized with a medley of smokey bourbon and accents of orange and lemon zest, orange blossoms, and vanilla, it lives up to its namesake.
Clay & Tea Tree Soap for Men - This refined soap has been customized to exude a dignified scent. Crafted with oatmeal for light exfoliation and nourishing ingredients like bentonite clay, tea tree oil, and safflower oil, its sophisticated smell is complete with a blend of bergamot, juniper, and patchouli.
Barbershop - Picture a classic old-school Barbershop. Slicked-back hair and curly mustaches. What smell pops into your head when you think about a clean shave? This IS that scent!

This bar is expertly handcrafted using a combination of fragrances and essential oils, resulting in a strong, long-lasting aroma and hardness. An aromatic blend of bergamot, basil leaf, oakmoss, and white patchouli creates a fragrant composition.

All-natural oils. Palm oil and Mica are responsibly and sustainably sourced.
Traditionally made bars of cold processed soap are best when used with a soap dish that allows the bar to dry or air out. Avoid leaving in standing water.
As these soaps are handmade in small batches, pictures are for reference only. Color, shape, and weight may vary slightly.
Each Bar: 5.0 oz - 5.5 oz.
Dimensions: 3"x 3"x 1"
*Weight and size can vary slightly due to each bar being cut by hand.